Fumiyo Kagawa and David Selby completed two dovetailed consultancies on Disaster Risk Reduction (DRR) Education in the Republic of Vanuatu on behalf of Save the Children Australia during March, April and early May 2012. The consultancies included desk and in-the-field elements, with David anchoring the former and Fumiyo undertaking the latter during her 18 March – 27 April 2012 field visit to Vanuatu.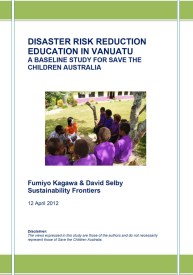 The first consultancy involved undertaking a baseline study of DRR in Vanuatu as a springboard for Save the Children program development aimed at promoting 'a replicable education model which will improve access to quality Disaster Risk Reduction education, ensuring children and families are better prepared to respond to disasters'. The baseline study involved working with the Vanuatu Ministry of Education and National Disaster Risk Management Office (NDMO) to assess current strengths, needs and gaps in primary school DRR and Climate Change Adaptation (CCA) education, establishing an understanding of existing levels of knowledge and practice in DRR amongst teachers and students while identifying issues to be addressed, and developing recommendations to guide development of a DRR curriculum pilot at a chosen grade level. The study was carried out through documentary review and analysis, questionnaires and semi-structured focus group interviews involving students and teachers at the ten chosen pilot schools on the island of Efate, semi-structured focus group interviews with the Vanuatu Education in Emergency Cluster, members of NDMO and curriculum writers at the Curriculum Development Unit of the Ministry of Education, and individual semi-structured interviews with the Principal Education Officer, Ministry of Education, and the Principal of the Vanuatu Institute for Teacher Education.
The baseline study, Disaster Risk Reduction Education in Vanuatu: A Baseline Study for Save the Children Australia was circulated to key stakeholders by Save the Children at a seminar hosted by the Ministry of Education on 20 April, at which Fumiyo presented the baseline findings.
The second consultancy involved designing and writing curriculum materials and a teacher training guide and program to test the model emerging from the first consultancy at the grade levels recommended in the baseline study (i.e. grades 4, 5 and 6). The Sustainability Frontiers team developed some twenty-five learning activities under three headings: Awareness-raising activities; Hazard-specific activities; Resilience-building activities. The activities include: brainstorming sessions; pair, small group and whole class discussion formats; experiential learning units; role play, drama and puppetry; in-the-field community learning; action learning within community partnerships for disaster risk reduction. The team also developed evaluation instruments for the pilot as well as instruments for assessing student learning. The pilot materials were field tested by teachers in Summer 2012 following a three-day training workshop in May 2012 facilitated by a Save the Children trainer who worked closely with the Sustainability Frontiers team throughout the consultancy.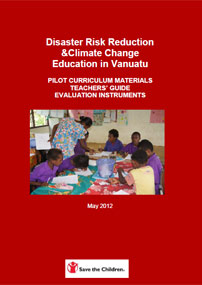 For the pilot materials document, see. Disaster Risk Reduction Education in Vanuatu: Pilot Curriculum Materials, Teachers' Guide and Evaluation Instruments

Vanuatu has a very high-risk profile. Located in the volcanic 'ring of fire' and 'cyclone belt' in the Pacific, it has seven active volcanoes presenting high risk to specific islands, and is experiencing cyclone activity of increasing frequency and severity that brings storm surges, flooding and landslips, disrupting communities, damaging infrastructure and social services. Earthquakes and tsunamis present a high, but infrequent, risk. Hence, vulnerability to disaster is high. For this reason, DRR learning really matters.